by Ron Bare
Alan and Katherine Barnhart gave away their company. They had spent years working on building a strong company and growing their sales but gave it all away in the end. "God is not impressed with the commas and zeroes," Alan said. "We're not giving away anything that God hasn't given us."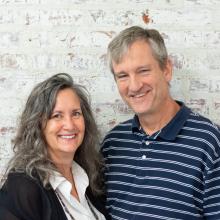 They were confident knowing that God owned their resources and that they had defined enough. Intentional future planning gave them the freedom to make such a generous decision.
Defining enough is an important step in recognizing that God owns everything that we have, and that endless accumulation is not what we were created for. Let us instead use our resources to join in God's mission, spreading the Gospel through our generosity toward others. This is easier said than done, but there are six steps that we believe will help you define enough.
First, add up all your monthly expenses. This includes your mortgage, utilities, transportation, groceries, etc. Providing for your family is good and right, and requires planning.
Second, define your wants and enjoyments. This might include vacations, date nights, eating out, entertainment, etc. It's important to enjoy life and spend time doing things you love!
Third, come up with a total annual spending/living goal. Once your needs and wants are defined, you can plan for both your living expenses and the things you enjoy.
Fourth, define how much you will need to accumulate to meet this goal of 'enough.' We would love to talk with you about this at Bare. This will cover what it looks like to work, save, and invest in order to have enough and then move forward to give in generous ways.
Fifth, pay off your debts! This is a crucial part of being financially free. When debts are not hanging over your head, you are free to move forward with saving, investing, and giving.
Finally, build a base giving goal into your financial plan and try to expand this giving each year. 2 Corinthians 8:7 says, "But since you excel in everything—in faith, in speech, in knowledge, in complete earnestness and in the love we have kindled in you—see that you also excel in this grace of giving" (NIV). How can you excel at giving? We encourage you to set an annual giving goal and then plan to expand that goal each year!
We've seen a variety of creative giving over the years in our clients' lives. We've seen clients give the growth of their portfolio away, give their business to charity, and others have given real estate away. How can you be generous with the things God has given to you? We'd love to help you talk through what this could look like for you.
Alan and Katherine are just one example of someone who is generous with what God has given them. It's such a great gift to the people they interact with and the communities they influence. It's honoring to God as they remember the one who has given them all that they have.
To learn more about Alan and Katherine's story, watch this video.